Beautiful, that is, this 15g!
This 15g material gives women a beautiful and youth face, called Hyaluronic Acid.
Hyaluronic acid is currently recognized as the best moisturizing ingredients, known as the skin "moisturizing gold."
It is widely present in the skin connective tissue and dermis, responsible for the storage of water, increase skin elasticity.
But the body only have 15g, and will gradually decline with age.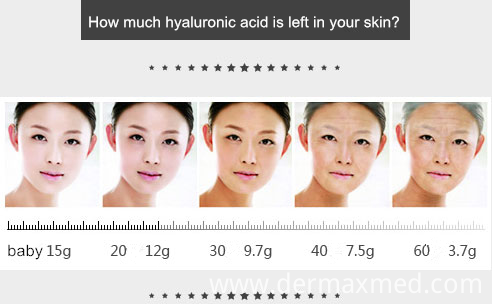 When the skin of hyaluronic acid = 15g,
the skin state will look moist, full, abundance, flexibility;
When the skin of hyaluronic acid <15g,
the skin is lost storage capacity, gradually become dull, aging. And the wrinkles are formed.
Skin hyaluronic acid content directly determines the skin's "visual age".
In order to have a beautiful and healthy skin, we can add hyaluronic acid scientifically and effectively!
Aaqu Secret Hyaluronic Acid Injection is the best way to choose!